►
Los Angeles Film Attorney | Film Law  
We represent Film and Television clients
throughout Los Angeles and California with a
focus on affordability and strong representation.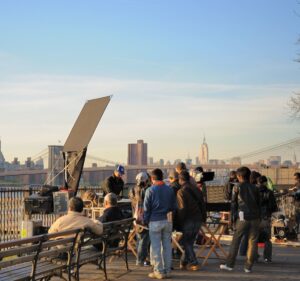 Filmmaking  is at the core of entertainment industry.  Filmmakers, studios, producers, directors, actors, technical talent, and others need legal assistance to navigate through an unyielding series of legal issues.
Distinguished from other firms by the array of services offered, AXIS handles  film and television legal matters, production and distribution, copyright matters, union and guild contracts, film, television and music licensing, represent music, film and television talent; and litigate a wide variety of entertainment- and media-related disputes.

► 
Who We Represent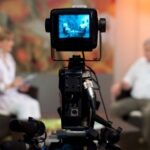 Axis represents numerous types of clients involved in and connected with the film and television industry, whether consisting of the studio/company side, producers and production companies, as well as talent. Our clients include but are not limited to the following:
Actors/actresses
Film distributors
Film investors
Film companies
Filmmakers
Independent studios

Producers
Production companies
Post-production companies
Screenwriters
Television writers
Television producers
► 
Types of Film/TV Projects We Represent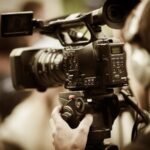 Having experience and industry knowledge of the film and television business is crucial for providing reliable legal advice. Our clients come from a range of genres spanning multiple fields and areas, including but not limited to the following:
Independent films
Shorts
Life stories / biographies
Documentaries
Film-festival submissions
Feature motion pictures

Television series
Television specials
Comedy specials
Reality TV Shows
Scripted Series
► 
Film & Television Practice Areas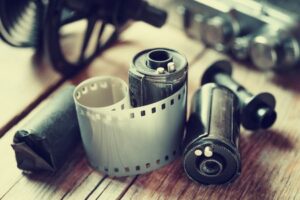 We represent clients involved with the Film & Television industry with a variety of legal matters. Whether it involves contract negotiations, entity formation, compliance with California laws and regulations,  licensing, copyright/trademark matters, consulting, strategic advice, or production issues,  Axis offers entertainers connected to the film & television industry high-quality legal representation spanning multiple legal fields.
[fusion_fontawesome icon="fa-film" circle="yes" size="20px" iconcolor="#ffffff" circlecolor="#636363″ circleborder="" alignment="left"]Film and TV Businesses

Axis helps Film and Television business form, run, and operate in compliance with California's laws, rules, and regulations:

Business entity setup and formation
Legal compliance
C Corporations
S Corporations
LLCs
DBAs

Entertainment loan-out companies
Licensing and Permits
Production vehicles
Investment vehicles
Non-Disclosure Agreements
Film Tax Credit Issues

Film and TV businesses
Film and TV business contracts
Partnerships and ventures
Celebrity/Influencer ventures
[fusion_fontawesome icon="fa-user" circle="yes" size="20px" iconcolor="#ffffff" circlecolor="#636363″ circleborder="" alignment="left"]Writers and Talent

Axis represents Film and TV professionals in their involvement with Film/TV ventures, across multiple practice areas:

Actor/actress agreements
Screenwriters
Screenwriting agreements
Screenplay commissions
Filmmaking agreements

Producer agreements
Producer compensation
Director agreements
Director compensation
Cast agreements
Talent agreements

Option/purchase agreements
Life rights agreements
Rewriting agreements
Creative consultant agreements
[fusion_fontawesome icon="fa-file-text" circle="yes" size="20px" iconcolor="#ffffff" circlecolor="#636363″ circleborder="" alignment="left"]TV/Film Contracts and Transactions

Axis represents TV and Film professionals and businesses in a wide variety of contracts, negotiations, agreements and transactions relating to film and tv production:

Adaption agreements
Cast Agreements
Chain of Title opinions
Commission agreements
Contract negotiations
Confidentiality agreements
Crew Agreements
Day Actor Agreements

Film ventures
Film Cast Agreements
Distribution agreements
Hosting Agreements
Joint ventures
Location agreements
Option/purchase agreements
Production Counsel
Publicity Contracts
Security Agreements

Sound & Light Contracts
Studio Contracts
Talent/Model Agreements
Screenplay agreements
Sales agency agreements
Writing agreements
[fusion_fontawesome icon="fa-money" circle="yes" size="20px" iconcolor="#ffffff" circlecolor="#636363″ circleborder="" alignment="left"]Financing and Investments

Axis assists filmmakers, producers, and production companies with investment and financing issues arising out of the filmmaking process:

Film LLC
TV Production LLCs
TV and Film investors
Film financing
TV and Film financing agreements
Film bonds and sureties

Film investor pools
Film investments
Residual/participation agreements
Back-end compensation agreements
Television production investment agreements

Producer participation agreements
Participation agreements
Sales financing
Distribution financing
[fusion_fontawesome icon="fa-lightbulb-o" circle="yes" size="20px" iconcolor="#ffffff" circlecolor="#636363″ circleborder="" alignment="left"]Intellectual Property & Licensing

Axis assists TV and Film clients with a wide variety of intellectual property and licensing matters, ranging across copyright, trademark, trade secret, licensing, confidentiality, and related matters:

Confidentiality Agreements
Copyrights
Copyright Assignments
Copyright Infringement
Content-Licensing Agreements

Intellectual Property Assignment
Licensing Contracts
Non-Disclosure Agreements
Licensing Contracts
Video Synchronizations
Film Clip Licensing

Trademarks
Trademark Disputes
Trademark Infringement
Trademark Registrations
[fusion_fontawesome icon="fa-gavel" circle="yes" size="20px" iconcolor="#ffffff" circlecolor="#636363″ circleborder="" alignment="left"]Disputes, Lawsuits, and Litigation

Axis represents clients in Film/TV matters in a wide range of disputes, lawsuits, and litigation, ranging multiple practice areas:

Participation/residual accounting
Accounting disputes
Intellectual property disputes
Contract disputes
Infringement

Breaches of contract
Film investment fraud
TV/Film financial mismanagement
Non-disclosure agreement breaches

Unfair competition
Invasions of privacy
Non-payment of debts or money for services rendered
[fusion_fontawesome icon="fa-users" circle="yes" size="20px" iconcolor="#ffffff" circlecolor="#636363″ circleborder="" alignment="left"]Unions and Guilds

Axis advises clients on a variety of union and guild issues, including compliance, contract negotiations, disputes, and regulatory matters:

American Federation of Television and Radio Artists  (IATSE)(AFTRA)
Directors Guild of America (DGA)
International Alliance of Theatrical Stage Employees

 Motion Picture Directors Association
Screen Actors Guild (SAG)
Writers Guild of America (WGA)
Producers Guild of America (PGA)
Alliance of Motion Picture and Television Producers (AMPTP)

 International Cinematographers Guild
Motion Picture Editors Guild (MPEG)
Animation Guild
Motion Picture Sound Editors (MPSE)
►
What Does an Film Lawyer Do?  
A film lawyer can be crucial to success in film and television industry. Whether it involves shooting a short film, videos and commercials, creating a larger feature film project involving hundreds of thousands or millions of dollars, and crew, there are a number of legal issues that arise during film production. For example, a business entity will have to be created to produce the film, and will deal with issues of financing, liability, and tax. When developing a film project, many producers first create a Corporation or LLC that develops one or more projects until each project is ready to be funded and produced. The development company does all the developmental work for the film project, such as acquiring underlying literary work for screenplay on which the film will be based. When the project is ready for funding in production, it will be transferred to a production LLC, insulating the producers other projects from failure or liability. The production LLC will owner license all the rights to the intellectual property associated with the film. Distributors will carefully examine a production LLC's paperwork to make sure that the production LLC has all the necessary intellectual property rights. Film production is a collaborative process and it requires legal counsel to avoid mistakes.
►
What Can a Film Lawyer Help You With?
AXIS Legal Counsel's film and media practice includes the handling of finance, production and distribution agreements as well as talent and executive employment, union and guild contracts, rights acquisitions, and sales agreements for both established and emerging film, music and media entities. AXIS can assist with raising debt and equity capital from private and public sources to fund major studio and independent projects as well as entertainment startups.
Negotiations. AXIS offers legal services to actors, actresses, studios, filmmakers, producers, writers, and numerous other professionals involved in filmmaking with negotiations of many kinds and types of deals.
Contract Review.  At a minimum, film industry professionals should have a lawyer or attorney help them review all contracts they are asked to sign so as to obtain a complete understanding of what their obligations are.
Film / Video Licensing. Once production is complete, there are a multitude of issues involving licensing rights, or simply put, who has the rights to use all or some of the final product and for what purposes. AXIS helps film professionals understand copyright and licensing laws and their rights and obligations.
Merchandising.  Merchandising can provide enhanced income for those involved with filmmaking.  Who has the authority to approve merchandise and how is merchandise income accounted for?  AXIS helps film industry professionals address merchandising now and in the years to come.
Distribution. With the growth of mobile and digital media, the legal issues involved with packaging and distribution rights have exponentially grown.  Filmmaking professionals may not always have a clear understanding of the legal issues involved when films, movies, and shows are distributed online or through streaming channels.  AXIS is here to help.
Film / Video Production.  The relationship between studio, actor/actress, director, and producer can be a complex one.   AXIS helps provide legal counsel on numerous production and developmental issues in the film industry.
Reality Shows.  AXIS is experienced with the numerous legal issues that accompany reality shows. From pitching concepts to securing talent, releases, negotiations, public relations, film location legal matters, chain of title issues, or other common legal issues, AXIS Legal Counsel can assist.
►

How Much Does it Cost to Hire a Film Attorney?
Many clients associated with the film and television industry worry that it can be too cost prohibitive to hire a experienced film and television attorney. This is not accurate. Axis Legal Counsel removes these obstacles by providing a variety of flexible fee and billing options for film in production clients. Most film in production clients ask us to do work on a flat fee basis, task-based basis, and for film financing projects, we are able to assist on a deferred contingency basis, so that the production company pays little to no amount for attorneys fees up front. With a variety of billing options available, it is easier than ever to retain a film attorney to help with film project
►

When Should I Hire a Film Attorney?
A film attorney should be hired as early as possible in the film development project. For example the production company will have to be properly formed in accordance with California laws and regulations, as will the vehicle for soliciting investments in the film. Once the producer is ready to seek investments for the film, the film attorney should be brought in to assist with the mechanics of making a securities offering, as US and California securities laws will have to be complied with.
This may involve the creation of private placement memorandums, promissory notes, production support, fiscal sponsorship agreements, as well as a business plan, production budget, timeline, and if the circumstances warrant, a film financing finder agreement.
►

What Kinds of Legal Issues Will I Need a Film Attorney to Help With?
AXIS Legal Counsel's film law and entertainment practice focuses on both transactional and litigation issues faced by members of the film and television industry.  AXIS has experience with a variety of issues pertinent to the film industry, including
Agency  Bookings
Artwork Releases
Booking Contracts
Broadcast Recordings
Casting Director Agreements
Certificates of Authorship
Contract Negotiations
Counterfeiting
Copyright Infringement
Chain of Title
Collaboration Agreements
Crew Deal Memos
Cyber-Piracy
Day Actor Contracts
Deal Memos
Distribution Agreements
Event Sponsorships
Film Clip Licensing
Film Synchronization Agreements
Film/Video Licensing
Location Agreements
Management Agreements
Merchandising Agreements
Option-Purchase Agreements
Production Counsel
Publicity Contracts
Security Agreements
Sound & Light Contracts
Studio Contracts
Talent/Model Agreements
TV Hosting Agreements
TV Series Producer Agreements
Union Bookings
Video Releases
Video Licensing
►

How to Request a Flat Fee Quote?
The best way to request a flat fee quote for your project is to email us with what you need and, if it involves reviewing an agreement, a copy of your agreement. We will usually respond within 24 hours and provide you with the flat fee quote. Or, you can use the attached link to our form to Request a Consultation. 
There is no charge for budgeting. If you would like to go forward with our firm after receiving the quote, then we would love to work with you.
► 

Who Will Work on My Project?
Meet our managing attorney, Rabeh Soofi. Rabeh is the founder of the firm and personally oversees all legal projects for clients. You will never be passed around from lawyer to lawyer, and your project will never be delegated to brand-new lawyers with no experience. We have a "clients first" approach, so we work very closely with clients to develop a good working relationship based on trust and mutual respect. Clients are never routed through receptionists or secretaries to have calls screened –  you will have direct access to your attorney, without any intermediaries, all the time, whenever you need help.Read My Bio
►

Tell Me More About Your Firm …  I Really Need a Good Law Firm Behind Me.
We feel the same way! Axis places a huge focus on helping film clients get fairness and fair deals, and we genuinely approach each client engagement as an opportunity to help the growth of emerging or established entertainer. We develop strong relationships with their clients, often over the course of many years, and maintain a very collaborative working relationship with clients, decision-makers, and others, that is based on trust, mutual respect, and a team-based approach to helping the entertainment or creative professional growth.
Axis is also a huge supporter of the Los Angeles entertainment community. Axis is a member of the California Lawyers for the Arts, and routinely holds seminars, presentations, and other events for members of the LA entertainment community.
►   
What are Past Clients Saying About You?
Don't take our word for it – hear what clients have to say! We are rated 10.0 by Avvo.com, ranked as "Superb" in the practice of law. What to know what past clients have to say about Axis? Check out our Client Reviews!
►

   

This Seems Way Too Easy… What's the Catch?
There is no catch! Axis counsels and represents film clients every day, all week long, every month, throughout the year. We routinely represent film clients from all genres. We love helping emerging and established film and motion picture professionals.
 [fusion_fontawesome icon="fa-search" circle="yes" size="medium" iconcolor="#606060″ circlecolor="#f4f4f4″ circlebordercolor="#f4f4f4″ flip="" rotate="" spin="no" animation_type="0″ animation_direction="down" animation_speed="0.1″ class="" id=""]

Read our Entertainment FAQs

Our FAQs answer the most common issues
in the Entertainment industry.

We have an extensive FAQ Library that covers the most common questions we get from entertainment businesses, as well as FAQs on recent changes in law affecting entertainment businesses.

[wp-rss-aggregator source="685328″]

[fusion_fontawesome icon="fa-plane" circle="yes" size="medium" iconcolor="#606060″ circlecolor="#f4f4f4″ circlebordercolor="#f4f4f4″ flip="" rotate="" spin="no" animation_type="0″ animation_direction="down" animation_speed="0.1″ class="" id=""]

Our Recent Projects 

We counsel entertainment clients every day
in nearly every practice area.

We have represented a variety of entertainment clients in numerous industries across multiple disciplines and practice matters. Here are some of the highlights.

[wp-rss-aggregator source="685370″]
► 
AS SEEN IN
Our talented legal counsel has been quoted in a number of press outlets, including the following: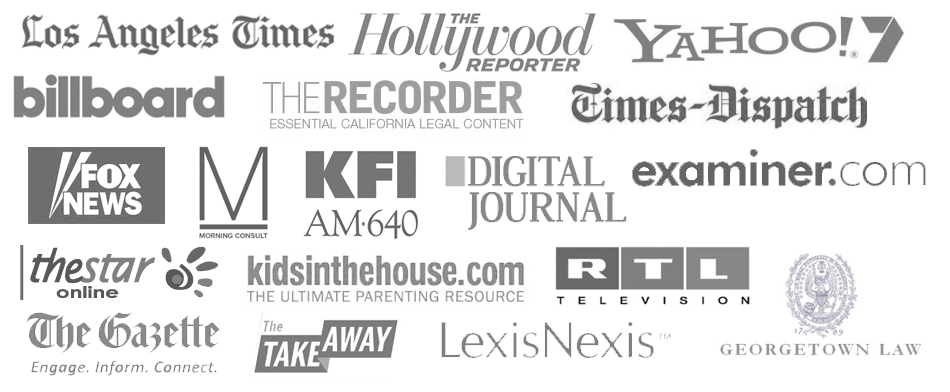 ►
Our Awards and Accolades
Our talented legal counsel has  consistently been recognized for excellence in legal services, and has been rated or ranked by Avvo, SuperLawyers, Euromoney's Definitive Guide to Leading Litigation Lawyers & Law Firms, Los Angeles Magazine, and others.
Superlawyers – Rising Stars- Top 2.5% of Attorneys in the State
"Superb" Rated by Avvo.com
"Top Attorneys – Los Angeles Magazine
Recognized as one of the Global 100 Lawyers in Business Law
"Business Law Firm of the Year" – ACQ/Intertrust Magazine
"Top Business Law Firm" – Finance Monthly Magazine
"Superb" Rated by Avvo.com
Lawyers of Distinction
"Up and Coming Attorneys"
Euromoney's Definitive Guide to Leading Lawyers and Firms
► 
Read our Latest Reviews







Read All Reviews

*** Testimonials are not a guarantee of any success or outcome, nor any guarantees about your legal matter. Each case is unique.
► 
Serving Clients Nationwide and in 22+ Countries Internationally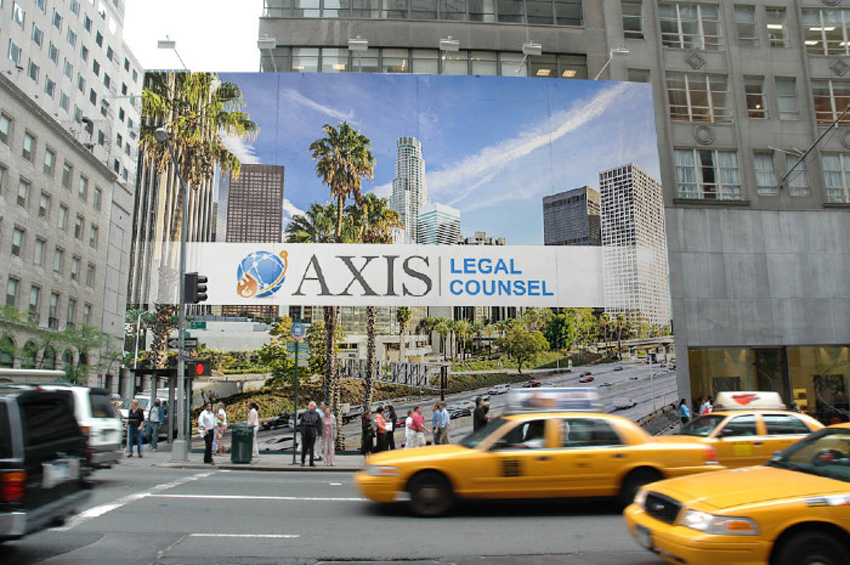 KEYWORDS
Film lawyer | Film attorney | Los Angeles Film Lawyer | Los Angeles Film Attorney | Beverly Hills Film Law | Film Law Firm | Film Attorney | Attorney for Film